Results: Brentwood Borough Council
Brentwood North
Philip Christopher
Mynott
Liberal Democrats
940
Elected
Adam Jack
Chinnery
The Conservative Party Candidate
357
Oliver Charles
Durose
Labour Party
183
John Michael
Hamilton
Green Party
134
Robert
Prince
Reform UK
31
Brentwood South
Gareth Paul
Barrett
Labour Party
811
Elected
Janak
Patel
The Conservative Party Candidate
433
Gary Martin
Macdonnell
Liberal Democrats
247
Brentwood West
Dominic Phillip
Naylor
Liberal Democrats
1041
Elected
Karen Ann
Lyon-Brown
The Conservative Party Candidate
448
Richard
Millwood
Labour and Co-operative Party
225
Brizes & Doddinghurst
Keith
Parker
The Conservative Party Candidate
880
Elected
Hugh Maurice
Gorton
Liberal Democrats
485
Kevin
Brailey
Labour Party
136
Herongate, Ingrave & West Horndon
Sheila Patricia
Murphy
The Conservative Party Candidate
613
Elected
Anne Valerie
Long
Liberal Democrats
148
Jane Elizabeth
Winter
Labour Party
129
Hutton Central
Melissa Mary
Slade
The Conservative Party Candidate
573
Elected
Laura Justine Margaret
Carey
Liberal Democrats
235
Philip Paul
Holland
Labour Party
156
Hutton East
Olivia Maria
Sanders
The Conservative Party Candidate
442
Elected
Arthur Harold
Leathley
Liberal Democrats
320
Liam Benjamin
Preston
Labour Party
45
Hutton North
No election
Hutton South
Roger Charles
Hirst
The Conservative Party Candidate
616
Elected
Alexander Samuel
Carter
Liberal Democrats
215
Deborah Lynn
Foster
Labour Party
150
Ingatestone, Fryerning & Mountnessing
Darryl
Sankey
Liberal Democrats
1098
Elected
Jonathan Mark
Cloke
The Conservative Party Candidate
744
Joanna Margaret
Moncrieff
Labour Party
114
Pilgrims Hatch
Barry Roy
Aspinell
Liberal Democrat
985
Elected
Gordon William Frank
Cowley
The Conservative Party Candidate
305
June
Simmons
Labour Party
134
Shenfield
Nicola Mary
Cuthbert
Liberal Democrats
879
Elected
Janet Irene
Pound
The Conservative Party Candidate
798
Elizabeth Susan
Jerrard
Labour Party
90
Anne Fiona
Millward
Green Party
80
South Weald
Thomas Rhys Hughes
Mclaren
The Conservative Party Candidate
314
Elected
Brenner Jack
Munden
Liberal Democrats
289
Francisca Jose
Dapp
Labour Party
38
Tipps Cross
No election
Warley
Mark Alexander
Haigh
Liberal Democrats
1016
Elected
Roger John
McCheyne
The Conservative Party Candidate
396
Susan Margaret
Kortlandt
Labour Party
156
Gregory Alan
Ince
Green Party candidate
72
Results: Epping Forest District Council
Chipping Ongar, Greensted and Marden Ash
Basil
Vaz
Conservative Party
562
Elected
Timothy
White
Labour Party
150
Naomi
Davies
Liberal Democrat Party
144
Robin
Tilbrook
English Democrats
72
Reform UK
Bell
Reform UK
26
High Ongar, Willingale and The Rodings
No election
Lambourne
No election
Moreton and Fyfield
No election
North Weald Bassett
Peter
Bolton
Conservative Party
635
Elected
Alison
Wingfield
Labour Party
194
Edward
Barnard
Liberal Democrat Party
173
Passingford
No election
Shelley
No election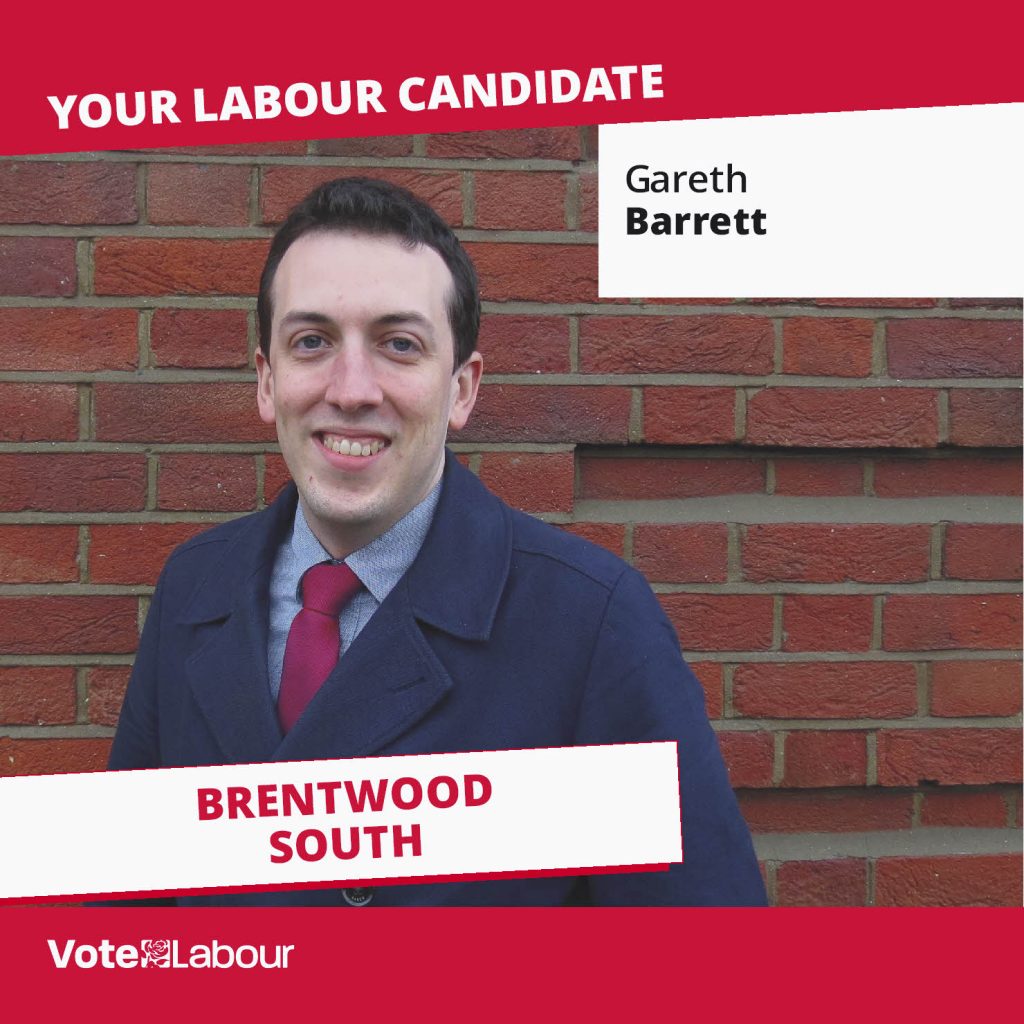 Brentwood and Ongar Labour Party is campaigning for all the seats up for election in the Brentwood Borough Council and Epping Forest District Council elections to be held on Thursday 5 May 2022.
Our candidates for Brentwood Borough Council:
Ward
Candidate
Brentwood North
Oly Durose
Oly has lived in Brentwood for the past 25 years, growing up in the town and going to local schools in Shenfield and Chelmsford. He studied Politics at the University of Exeter, before completing a Masters in Political Theory from the University of Oxford. He now works for a Labour MP and as a Policy Fellow at SOAS University of London. In 2019, he ran as Labour's Parliamentary Candidate for Brentwood & Ongar, securing second place. In the wake of the coronavirus pandemic, Oly co-founded the Brentwood Mutual Aid group, which continues to provide invaluable support to the most vulnerable across the borough.
Having stood for the local elections in 2021, Oly is delighted to have the chance to stand again and to represent the people of Brentwood North. Oly is committed to making Brentwood a vibrant place for young people not just to grow up in, but to stay and make a home for themselves. That means reinvesting in our High Streets, and in local co-operative businesses that empower workers to take control of their own workplaces, neighbourhoods and communities.
If you want to send a message to this corrupt and contemptuous Conservative government, vote Labour!
Brentwood South
Gareth Barrett
Gareth has been a Councillor for Brentwood South since 2014, having been re-elected in 2018. He is the Leader of the Labour Group on Brentwood Borough Council, where he is very active in holding the administration to account for their decisions and the impact they make on local residents. His positive approach to challenging council policies has seen many changes and amendments that have benefitted residents across Brentwood. His work in Council Chamber has directly led to the Second Home Council Tax Discount being removed, investment in the town centre, support for vulnerable young people and the first Borough-wide target for achieving carbon net zero. Alongside this, he has supported residents on everything from housing issues to fly-tipping, noise complaints to replacing road name signs.
Gareth grew up in Brentwood, attending St Peter's in South Weald and what was then the Hedley Walter High School. He then went on to the University of Essex to study economics. He continued to study part-time, completing a Masters Degree in Public Policy and then a PhD in Government at Birkbeck, University of London. He works in communications for the water sector.
Brentwood West
Richard Millwood
Richard has lived and raised his family in Brentwood since 1991. He is an education professional concerned with the innovative organisation of effective learning, particularly using technology. He is concerned about the future of the planet and frequently cycles and uses public transport although recently became the enthusiastic owner of a fully electric car. Richard wants to develop and promote Brentwood Borough's excellent location as a great place to start, expand & sustain a business and work to encourage more businesses to move to Brentwood. He will help put the Borough on the tourist map by advertising its diverse heritage & leisure facilities, especially its beautiful parks.
Brizes and Doddinghurst
Kevin Brailey
Kevin has lived in Brentwood for nearly twenty years. He is retired but still does some teaching part time. He plays cricket for Brentwood CC and also spends many hours looking after our cricket ground in Gt Warley.
Herongate, Ingrave and West Horndon
Jane Winter
Jane is a long term Brentwood resident, having moved to the Borough in 1973. She worked for the NHS for 43 years after 3 years at the United Nations. She raised her family in the Borough and she's very proud that both children are now working for the NHS as well. She is married to a retired local teacher and enjoys the Arts and travelling.
For the past 6 years she has been a Parish Councillor in Ingatestone & Fryerning, where she chaired the production of its Neighbourhood Plan, which will go to a referendum this summer.
If elected Jane would ensure the community would be actively involved in the many changes the housing plans for the Ward will bring.
Hutton Central
Philip Holland
Philip joined the Labour Party principally because it stands up for the many not the few. There are many who face considerable challenges now and in the future. For example: the cost-of-living crisis and climate change. I will work with other councillors to mitigate the impact of these and other issues on the people of Brentwood, in the community and in the workplace.
Hutton East
Liam Preston
Liam is the Director of Communications at a local University. He is married with four children and understands the challenges of balancing work and home life.
Outside of both of these, Liam is the Vice-Chair of Long Ridings Primary School and has served as a governor for more than five years. He is also on the board of a local homeless and youth charity, where he gives back his expertise in comms to support the charity's mission.
After their daughter died in 2019, Liam alongside a fellow bereaved father, launched a podcast to support dads with their grief. The podcast is the first of its kind globally and has been featured numerous times across the BBC. Recognising a lack of support services in this area and many others is what drives Liam to want to stand for council. Right across our community, there are residents in desperate need of help but the council and national government have turned their backs on them. We need a Labour government to give people the best opportunities in life. Offering them a hand, in their darkest hour.
Last year, in recognition of his voluntary work supporting young people, Liam was awarded the British Empire Medal from the Queen, in her birthday honours. Ensuring that there are positive activities, the right facilities, and proper role models in our community for young people is a passion for Liam, and something he wants to champion if elected.
Hutton North
no election
Hutton South
Debbie Foster
Debbie is a Christian, mum, wife and recently retired from being a Family Support assistant at a local school. Her role was to help pupils' families and she enjoyed making even a tiny, positive change in their lives.
She spent my formative years in Brentwood and received a great education in the town – she was inspired to become a teacher before raising a family. She still retains a great interest in education both nationally and locally!
The local community is very important to Debbie. It is where her faith and her politics come together.
She wants to see a socially and morally just society and believes it needs to be achieved in her own town before conquering the world!
Ingatestone, Fryerning and Mountnessing
Joanna Moncrieff
Joanna has lived in Brentwood since 2001. She is a psychiatrist who works for the national health service locally. Her children attended local schools. She enjoys film and drama and walking and cycling in the beautiful Essex countryside.
Joanna would like to see the development of better facilities and clubs for young people locally and help for them to find decent jobs, apprenticeships and affordable housing in the area. She supports the preservation of our local parks and green spaces and would like to see the council promote communal garden schemes as in other areas.
Pilgrims Hatch
June Simmons
June moved from Wanstead, London in 2008 to Brentwood to be near family. She began volunteering as a gardener at Warley Place. With friends and neighbours in education she was asked by a Head Teacher to volunteer at an infants school as she'd studied Education as part of her first, Degree BA Hons with Open University – proud that the OU was started by Labour's Jennie Lee. While her children were little, she'd worked school hours in higher education where she was trained into her rôle as a Trade Union Rep and Staff Side TU Negotiator and produced the in-house magazine.
In Brentwood she joined the Local Labour Party where she met many like-minds, dedicated to addressing austerity's ever increasing pressures on Housing, Education & Health and, where possible, improve people's quality of life.
Shenfield
Elizabeth Jerrard
Elizabeth has lived in Shenfield for 20 years although originally hails from Devon. She therefore appreciates the benefits that green spaces and easy access to green space provide.
Brentwood has many beautiful parks and woodlands and if elected one of her priorities will be to influence the Council to develop a coherent parks and leisure strategy to ensure easy and affordable access for all residents.
Elizabeth will campaign to improve safety on our roads, which will include better facilities for cyclists and a reduction in the speed limit for traffic. She will also try to influence the County Council to keep verges free from traffic and to improve bio-diversity by planting verges with wildflowers and trees.
As a Friend of Shenfield Library, Elizabeth will help support the group in their stated aim of promoting the use of Shenfield Library and its service by the community that it serves.
South Weald
Fran Dapp
Fran has lived in Brentwood for over thirty years where she brought up her three children, and a number of years working in Social Housing. She has seen how insufficient and insecure housing adversely affects peoples lives and life chances so would support affordable housing in the genuine sense.
Fran believes more needs to be done to make our local roads safer so people stop zig-zagging around pot holes in an attempt to prevent damage to their cars and reduce the risks of cyclist accidents, while also addressing speeding in residential areas.
Having spent a great deal of time at King Georges park when her children were young, Fran would support discounted charges for local families when using the new facilities there, while ensuring the park remains welcoming for the older generation as well with the provision of adequate seating.
Tipps Cross
no election
Warley
Susan Kortlandt
Originally from Yorkshire, Susan has lived with her husband in Warley since 1997. A fluent linguist, she was a teacher and active trade unionist for 30 years. In retirement, she enjoys volunteering, including Citizens Advice and Brentwood Mutual Aid. She is a keen walker and cyclist, loves music and theatre.
One of Susan's priorities is to pressurise the Council into, firstly, declaring a Climate Emergency, then pursuing policies to achieve net zero carbon by 2030. She will give long-term support to sports clubs and environmental groups, enabling families and visitors to make the most of our woods, green spaces and leisure facilities. She will support further investment in the Community Fund to provide facilities such as scout huts, community halls and volunteer hubs.
She will strive to make Brentwood safer for cyclists and pedestrians, to develop 20mph zones in residential areas and will put pressure on Essex County Council to fill potholes properly and repair pavements.
Our candidates for Epping Forest District Council:
Ward
Candidate
Chipping Ongar, Greensted and Marden Ash
Tim White
Tim has been an active Labour member since 1980 and in the Trade Union movement as a shop floor representative for GMB, TSSA and UNITE fighting local battles over pay and conditions. He believes the Labour movement needs to offer very clear leadership and socialist solutions to people struggling against the cost of living crisis.​
North Weald Bassett
Alison Wingfield
Alison has been a Labour member for many years and a Unison member supporting complex groups in several London Boroughs. As an Ongar Town Councillor for 9 years until 2015, she believes standing up for people's rights and listening to issues is imperative, to include parking, highways potholes, planning, all areas of the environment and all our green spaces, littering, vandalism, unsocial behaviour and more.
Read about all the parties in Brentwood in Essex Live.
Campaign materials
Read the leaflets created to support Gareth Barrett's candidacy in Brentwood South:
Contact us here if you have any questions.
Jane Winter is our election agent.