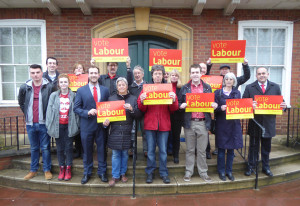 Brentwood Labour Party this week launched the Labour 'Manifesto for Brentwood' with five key pledges to the residents of Brentwood. Outside Brentwood Town Hall local Labour candidates and councillors formally launched their 2015 campaign, announcing a full slate of candidates for the local elections.
The Manifesto focuses on five headline pledges that cover the local standard of living, responsible development, support for voluntary groups and investment in our parks, demanding more from the County Council and to further develop Brentwood's appeal as a location to do business.
Of note within the pledges are commitments to end the use of zero hours contracts for any council employees, invest in Brentwood's social housing whilst challenging effective Government demands that we build thousands of homes on our greenbelt, invest in the redevelopment of the Town Hall as a hub for voluntary activity and launch new parking strategy that brings down the cost of parking.
These pledges will be delivered by Labour's twelve candidates, drawn from across the Borough who together have lived in Brentwood for over three centuries. This long term, local knowledge is key to the candidates who understand our town – knowing what must be protected and what must be improved.
Labour's Five Pledges to Brentwood
We will:
For more information on each pledge please follow their links.
Tim Barrett, Labour Candidate for Brentwood South, commented:
"I am committed to making a difference to the residents of Brentwood South, with real action on speeding traffic, parking, the High Street and the Town Hall. Today's manifesto launch demonstrates that not only are we committed to our own wards, but about delivering a better Brentwood for all of us. "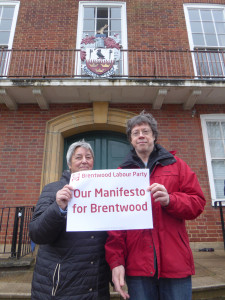 Cllr Gareth Barrett added:
"We have a diverse and dynamic team who are committed to one task – delivering for the people of Brentwood. Our Manifesto gives a real vision for a Council that protects our uniqueness and invests in our Borough for the future."
Jane Winter, Labour Candidate for Ingatestone, Fryering & Mountnessing, said:
"Labour is making its case across the Borough, from Ingrave to Blackmore, Shenfield to Ingatestone. I am proud to say that every resident will have the opportunity to vote for a Labour Candidate. "
Philip Holland, Labour Candidate for Hutton North, added:
"I believe that the council can and should do more to support residents across Brentwood. As a Hutton resident I want to see a more proactive council who delivers on issues large and small – and I'm putting myself forward as a Labour candidate to make that happen."