Candidates and Councillors launch Labour's Manifesto for Brentwood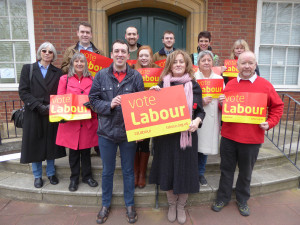 Brentwood Labour Party have announced their
full slate of candidates for May's local elections
alongside their new 'Manifesto for Brentwood'. The launch took place outside of Brentwood Town Hall and the local party's five key pledges central to their conversations with residents so far.
The Manifesto focuses on five headline pledges that cover the local standard of living, responsible development, support for voluntary groups and investment in local parks, demanding more from
 the County Council and to further develop Brentwood's appeal as a location to do business.
Of note within the pledges are commitments to invest in Brentwood's social housing whilst challenging effective Government demands that we build thousands of homes on our greenbelt, develop a long-term leisure and parks strategy which supports local sports groups and families, invest in the redevelopment of the Town Hall as a hub for voluntary activity and launch new parking strategy that brings down the cost of parking.
These pledges will be pursued by Labour's thirteen candidates, drawn from across the Borough who together have lived in Brentwood for over three centuries. This long term, local knowledge is key to the candidates who understand our town – knowing what must be protected and what must be improved.